Recreational Therapy Programs Expand at Holbrook, One Resident at a Time
At Holbrook, getting older doesn't mean giving up on the activities we love. In fact, as we age, staying mentally and physically fit is key to our health, our happiness, and our general sense of wellbeing. Even though aging naturally slows us down, it's still important to stay active and mentally engaged, and there are professionals who are trained to help.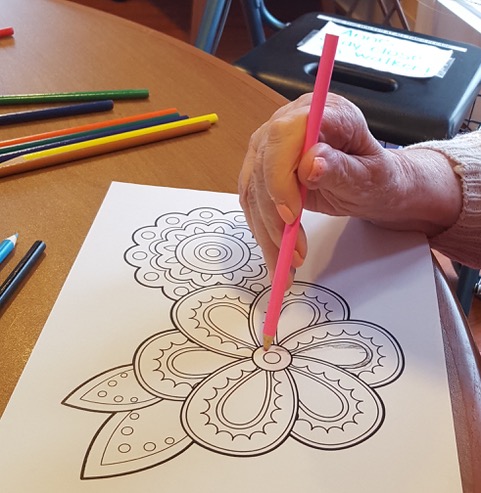 "A Recreational Therapist is responsible for figuring out how to utilize a wide range of recreation, leisure and community-based interventions to improve the physical, cognitive, emotional, social, and leisure needs of their clients," explains Elisha Stickney, Recreation Manager at Holbrook. Stickney, who was born in Maine and earned her degree in Recreational Therapy from University of Southern Maine, says the techniques being developed and employed at Holbrook are having positive impacts, and she is excited to be expanding programs for Holbrook residents with a team of new staff members.
"I've seen a big transformation in the residents who are participating in our programs," says Stickney. "A resident will come in anxious, unsure where to go or what to do. By attending a program that provides meaning to this resident in the way of independence, mastery and predictability, in this case an art class, the anxiety is relieved." After completing an hour-long painting program, Stickney says residents will often put down their paintbrush and sit feeling relaxed. "This is a big transformation from how they entered the class," she said. When a goal-oriented therapy program that focuses on resident's abilities and interest is run by a Recreational Therapist benefits can include reduced anxiety without medication. This is just one example of the difference between traditional activities and Recreational Therapy.
Armed with a body of knowledge and a new team of recreation experts, Stickney is developing a new and improved process that uses recreation and other activity-based interventions to address the needs of Holbrook residents. One key is to make sure that Holbrook residents have a way to attend lectures and other activities going on at the main Piper Shores campus.
"Just because residents move from independent living to assisted living does not mean they should give up on programs they enjoy," explains Stickney. "Part of my job is to make sure Holbrook residents know what's happening all over campus, and they have access to the programs that interest them." By access, Stickney means both a communication plan that gets the word out and the transportation to get them there.
Another key strategy for increasing participation in activities is to employ a "community-based" approach that taps into volunteers from the independent side at Piper Shores. "We have an amazing community of independent residents at Piper Shores who have the skills and the passion to help others," says Stickney. My goal is to engage that pool of skilled volunteers and bring them over to Holbrook as activity leaders.
Activities at Holbrook
In the last year since Stickney and her team began, offerings for residents have greatly expanded. Here's a list of some of the activities available:
Art Classes For all Levels
No one needs to be a master artist, and mediums can be adjusted based on ability, but painting, drawing, crafts and clay work are open to residents of all abilities. If a medium is too challenging – say, for example watercolor, then adaptation can be made to pen and pencil.
Book Club
The weekly book club is a resident-led program for all abilities and all reading interests. "Residents choose what books they want to read, and they read out loud if they are able," says Stickney. Residents who typically have memory issues are asking what is going to happen next to the main character between group meetings. Book Club meetings have been added throughout the week and weekend because residents are so excited to find out what's coming next.
Music
In this program, residents play songs and make up new songs. Sometimes they change the lyrics to old songs to make them more relevant or to add some humor into the songs. This activity is led by a music therapist who brings instruments into Holbrook. A music and memory program is also in the works, says Stickney.
Card playing, including bridge
Card playing is a great activity because it's social and it engages the brain. The recreation therapy team has supported the card players by developing ways for residents to play without having to hold the cards, or enlarging the numbers on the cards so they are legible to visually impaired residents. A new bridge group is now up and running too and is a combined group of assisted living and health center residents.
Bowling
A resident recently suggested bowling – so an outing was arranged to go to Vacationland (extremely friendly and accommodating staff, handicapped accessible) in Scarborough. Residents were able to bowl in a traditional way and others were able to use an adapted ramp for those who cannot stand.
Knitting Group
A new knitting group has been established by an independent resident who offered to come over each week and lead the group. The knitting group has a goal of making a knitted item
that can be donated to the children's hospital.
Bread Baking
A bread baking group has been developed that is designed to teach bread baking and share it's many pleasures. This program evolved because of a resident who used to make bread every day.
The recreation therapy team is committed to developing programs for each of the 60 residents at Holbrook. "In the last few months, we've been enforcing and strengthening person-centered programming, which means that we assess each resident's ability, figure out what they can do and what they might want to do, and we develop programs specifically for them." The goal is to maintain the functional ability of each resident. "We're not trying to fix anything, we are trying to maintain cognition and improve their quality of life."
Piper Shores is committed to supporting the expansion of the recreational therapy program at Holbrook, according to Jim Adamovicz, Piper Shores CEO and Holbrook Administrator. "The evidence is clear that as seniors age, their happiness and wellbeing depend on their ability to stay active. Like everything at Piper Shores, we are taking a person-centered approach where we develop the right program for every individual."