The professional relationships you have built over the years with your clients are based on trust and personal attention. Holbrook at Piper Shores shares this same philosophical foundation. Offering assisted living, memory care, and skilled nursing care, Holbrook embraces a compassionate approach to care that is founded on the principle that every resident is a unique person, has a story to tell, and is encouraged to guide their own care. We call this approach, PersonFirst®.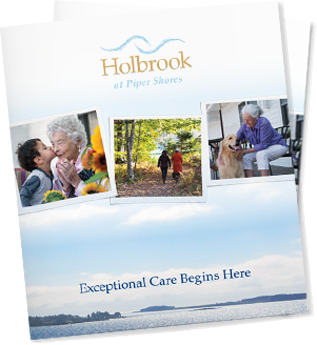 If you aren't yet familiar with Holbrook at Piper Shores, we hope you'll take a moment to learn about our extensive offerings and our resident centered approach to care. Whether your clients require short-term care, long-term care, rehabilitation, or respite care, Holbrook offers high-quality amenities in a world-class setting. Our 138-acre oceanfront campus offers fine food, an extensive fitness center with trainers, an arts center, a heated indoor pool, and much more. Perhaps even more important, we offer a staff of caring and highly trained professionals who are here to help.
As your clients or their parents find themselves in need of assisted living, memory, or nursing care, we would welcome the opportunity to introduce them – and you – to Holbrook. Residents of Holbrook enjoy a unique and specialized care that gives them the freedom to live in a beautiful, safe, and healthy environment. As a testament to our commitment to excellence, we recently received CARF re-accreditation and top scores from Maine's licensing agency.
We hope you'll explore our extensive website and fill out the form on this page to download our brochure, which describes the many activities and services provided to our residents so that they can continue to live rich and rewarding lives.
If you have any questions, please do not hesitate to call or email.