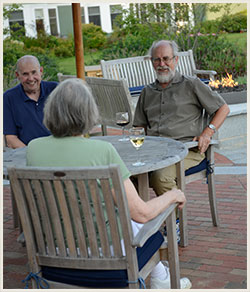 One of the most difficult times in life comes when we have to talk to a parent or spouse about finding a living situation that offers an increased level of care. Many times this moment signals a reversal of traditional roles – a child takes over the role of parent.
At this time, it is helpful to enlist the aid of authority figures such as a physician, attorney, or other family advisor who may already have a relationship with your loved one. For example, if the doctor tells your parent or spouse that increased care is the recommended next step, then you are better able to point out that it is the circumstance making the choice, not you.
Most of all, it's important to remember that you are taking the right steps to take care of your loved one – and Holbrook and other assisted living residences are here to help you do that.