By 2 PM on Wednesday, November 29, the hallways of the 3rd floor of Holbrook's new Wayland House Memory Care and Assisted Living building began to bustle with activity.  Large platters of fruit, cold cuts, cheeses, and cookies were spread out. Guests and dignitaries – including representatives from the offices of Senator Susan Collins, Senator Angus King, and Congresswoman Chellie Pingree – began to arrive. Piper Shores board members, staff, and residents poured into the halls, which had been thoughtfully decorated for the holidays days before the grand event.  Even members of the media came.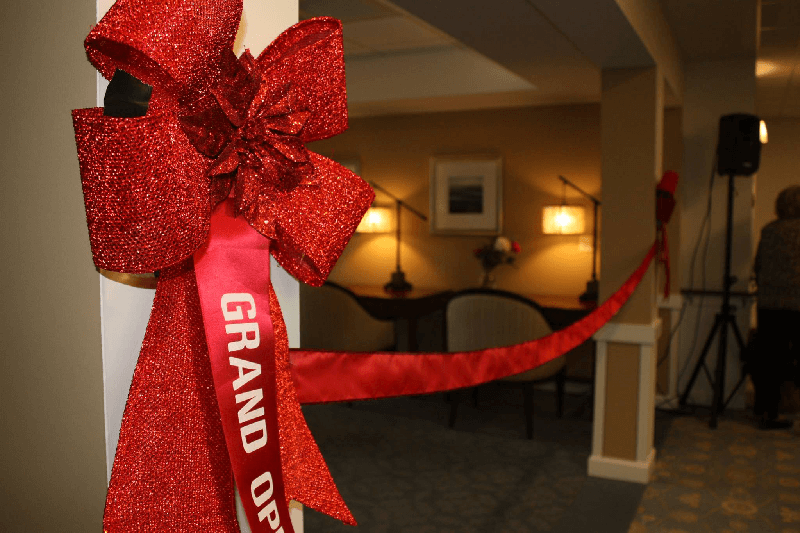 Everyone was there for the long-awaited grand opening of the Holbrook Memory Care and Assisted Living residences. The event was a celebration of the 43,000-square-foot expansion, which took 18 months and $14 million to complete. Also in the audience were many of the builders and contractors who created the large state-of-the-art structure, and who made sure that every detail was handled.
Piper Shores CEO Jim Adamowicz welcomed guests and thanked everyone for helping to celebrate such a momentous day for the 16-year-old nonprofit lifecare community.  He recognized a vigilant and visionary board of directors who have kept a keen eye on the organization's long-term financial sustainability. He thanked Piper Shores' 300+ residents, who endured a sizeable construction project in their own backyard; and he praised the organization's commitment to the long-term care needs of its own aging residents.
"Dementia is a mounting concern nationally, and Maine lacks adequate care options to accommodate the growing need," said Adamowicz in a prepared statement. "It is clear that the state and the nation must plan for the needs of the older members of our community." His remarks were followed by congratulatory statements from Collins, King and Pingree, all of whom commended Piper Shores on its vision and leadership.
The announcements were followed by a ribbon-cutting and tours of the building.
More about the new building
 The new building will provide 14 new memory care residences (Wayland House Memory Care) and 16 new assisted living units designed to meet the needs of current residents as well as members of the greater community. The expansive new building features expertly-designed, home-like living quarters with spacious, natural light-filled common rooms including activity areas for fitness, crafts, cooking, reading, and indoor gardening.
The Holbrook expansion puts Piper Shores in a league with a small number of national lifecare retirement communities that offer state-of-the-art memory care, independent living, assisted living, and nursing home care all on one contiguous campus. As Maine's only nonprofit lifecare community, Piper Shores has always offered independent living, assisted living, and nursing home care for its residents. The new expansion adds a more robust, secure memory care offering in a modern, state-of-the-art building with certified recreational therapists managing daily activity life.
The occupancy permit for the expanded Holbrook building was issued on November 7, 2017, and current Piper Shores residents began to move in that week. The new building is also available to those from the Greater Portland community and beyond.
 Holbrook is accredited by the Commission on Accreditation of Rehabilitation Facilities (CARF) and was awarded exemplary status for its innovative Life Stories program, part of the PersonFirst® approach to nursing care. PersonFirst® is founded upon the principle that every resident is unique and should be encouraged to participate in guiding their own care.
The Board of Directors approved the Holbrook expansion in 2015 and continues to focus on the growing demand for senior living. The new building is one way that the community is addressing increasing demand as well as securing the organization's long-term financial sustainability.
Arts Building Coming Soon
Included as part of the campus expansion is a new 2,800-square-foot arts center, which fulfills a longstanding dream to provide creative space for all Piper Shores and Holbrook residents. The new arts building will offer a painting room, a fabric arts room, and a ceramics room with a kiln for firing pottery. The vestibule will provide a gallery space for art shows. A garden behind the building will offer a place for people to remember loved ones. Residents of all ages and abilities will be welcome. The new building is scheduled to open in December 2017.
Read More
To read more about the expansion, check out articles in Mainebiz and the Portland Press Herald.