Holbrook announced on November 29 that it has completed construction of a $14 million, 43,000-square-foot expansion of its new Holbrook Memory Care and Assisted Living residences, situated on the 138-acre Piper Shores campus. The project took 18 months to complete and is expected to expand the employee base to over 240 workers. The new building will provide 14 new memory care residences and 16 new assisted living units designed to meet the needs of current residents as well as members of the greater community. The expansive new building features expertly-designed, home-like living quarters with spacious, natural light-filled common rooms including activity areas for fitness, crafts, cooking, reading, and indoor gardening.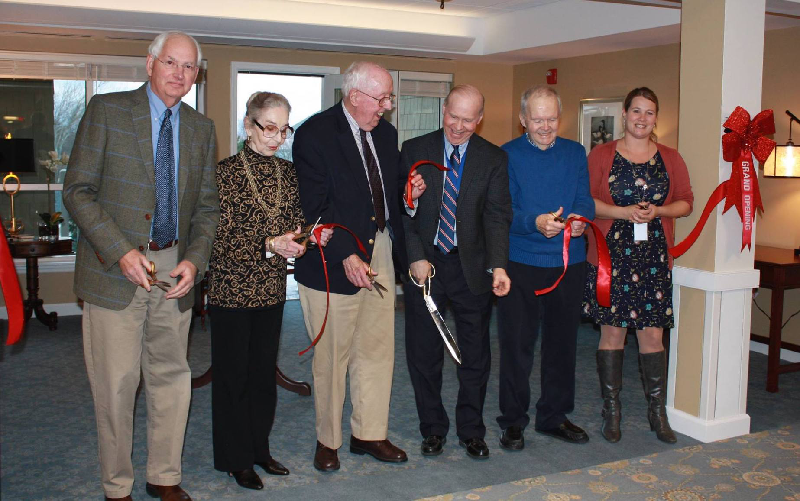 The Holbrook expansion puts Piper Shores in a league with a small number of national lifecare retirement communities that offer state-of-the-art memory care, independent living, assisted living, and nursing home care all on one contiguous campus. As Maine's only nonprofit lifecare community, Piper Shores has always offered independent living, assisted living, and nursing home care for its residents. The new expansion adds a more robust, secure memory care offering in a modern, state-of-the-art building with certified recreational therapists managing daily activity life.
"Dementia is a mounting concern nationally, and Maine lacks adequate care options to accommodate the growing need," said Piper Shores CEO Jim Adamowicz. "Maine is also the oldest state in the U.S., and with 10,000 baby boomers retiring every day in America, it is clear that the state and the nation must prepare for the needs of the older members of our community." Adamowicz also noted that Piper Shores is committed to accommodating the long-term care needs of its own residents as they age.
The occupancy permit for the expanded Holbrook building was issued on November 7, 2017, and current Piper Shores residents began to move in that week. The new building is also available to those from the greater Portland community and beyond. A formal ribbon cutting ceremony took place Wednesday, November 29 at 3:00 PM.
Susan Collins and Chellie Pingree Praise Expansion
"Having attended the grand opening of Piper Shores 16 years ago, I am pleased to congratulate the retirement community's long-anticipated expansion of the Holbrook Assisted Living & Memory Care.  Assisted living communities like Holbrook are an invaluable resource to our aging society, particularly to those who suffer from Alzheimer's disease and other forms of dementia," said Senator Susan Collins.  "As the founder and co-chair of the of the Bipartisan Congressional Task Force on Alzheimer's, I have long worked to support caregivers and increase resources for Alzheimer's research.  This investment by Piper Shores will help expand access to the high-quality care Alzheimer's patients need."
"While the average age of Maine's population continues to rise, it's critical that we have facilities where seniors can receive a full spectrum of services as their needs change, from independent living to assisted living to full-time nursing home care," said Congresswoman Chellie Pingree. "My thanks and congratulations to Piper Shores for continuing its leadership in caring for Maine seniors through this exciting expansion and the state-of-the-art memory care services it will now offer."
Holbrook is accredited by the Commission on Accreditation of Rehabilitation Facilities (CARF) and was awarded exemplary status for its innovative Life Stories program, part of the PersonFirst® approach to nursing care. PersonFirst® is founded upon the principle that every resident is unique and should be encouraged to participate in guiding their own care.
Piper Shores was established in 2001as the state's first nonprofit continuing care retirement community. The resident population that moved in were in their 60s and 70s. Today the campus continues to attract new residents in their 60s and 70s, but it also sustains a population that has aged and requires more support. In addition, Piper Shores has a two- to seven-year waitlist of future residents who are awaiting independent living cottages and apartments to meet their retirement needs.
The Board of Directors approved the Holbrook expansion in 2015 and continues to focus on the growing demand for senior living. The new building is one way that the community is addressing increasing demand as well as securing the organization's long-term financial sustainability.